15 May

Construction Update – April 19, 2017

This week at the Brays Island House Build

Our fabulous volunteers have made great progress this week!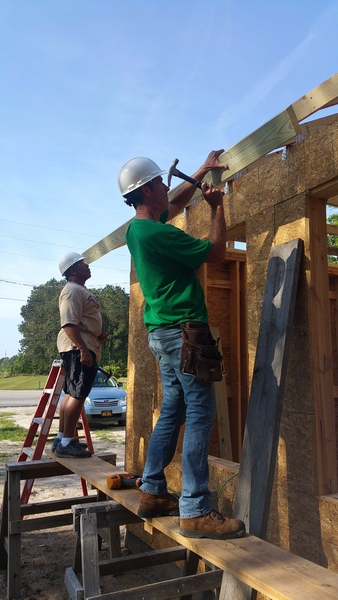 Above: Paul Smith and Jim Daniels framing facia at the Brays Island House build.
Below: Lee Ellis and Paul Smith nailing in the soffits. Kathlyn Gray and new Family Partner, Sabrena Green on the power miter saw. Photos by Michael Perry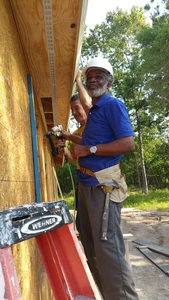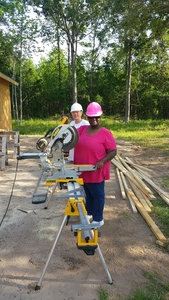 This Saturday and next Tuesday and Thursday we will continue to work at the Brays Island House Build located at   2216 Trask Parkway.  Please email Michael at michael@lowcountryhabitat.org so that he will know to expect you.
Special volunteer project for Wednesday April 26th
We need many hands, rakes and leaf blowers to help us get the yard at 2831 Broome Lane, Beaufort, SC 29902 in tip top shape for our volunteer party on the 27th. Please call Lee, in the office at 843-522-3500, or email: info@lowcountryhabitat.org to sign up. We will begin at 9:30 am.
LowCountry Habitat for Humanity thanks all our volunteers for everthing you do to help bring people together to build homes, communities and hope in northern Beaufort County.
Have you RSVP'd for our Volunteer Appreciation Party?
Today is the deadline to RSVP! We are looking forward to a great evening of fun and fellowship, featuring Burgers, Beverages and Surprises!
.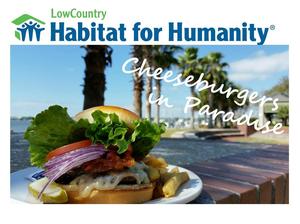 Volunteer Appreciation Party
Bring your spouse or a friend. Children are welcome too. Please note that for their safety, children exploring the dock are required to wear a life jacket.
Car pooling and Hawaian dress encouraged!
Seating is limited, so if you have a lawn chair, please bring it along with you.
RSVP by Thursday April 20 via evite, or call Lee at the office: 843-522-3500
The Brays Island house will become home to Family Partner, Sheryl Tucker and her son Keyvon.

If you have a friend who might be interested in volunteering in the construction of this house, please encourage them to attend our next Volunteer Orientation Meeting,
10 am at the office on May 13, 2017

ReStore and Warehouse volunteers are also needed!

Thank you!